The markets experienced a broad rally this week, spread across all major indices and most sectors. While the rally in small and midcaps helped them overcome the losses in the past month, it was large caps that touched fresh highs and made the big moves.
The past month, markets experienced volatility on the anticipation of higher interest rates. However, Fed announced that they will increase interest rates in a gradual and consistent manner and minimise shock to economy.

As opposed to the trend in the last 1 year, the rally is limited to fewer names and more biased to large caps. There is a strong quality bias in the market, with quality stocks gaining higher premium.
Sustainable returns in market going forward will come only by quality oriented stock-picking. Mutual funds with a strong process and quality and fundamental bias will be suited to handle the market volatility from here on.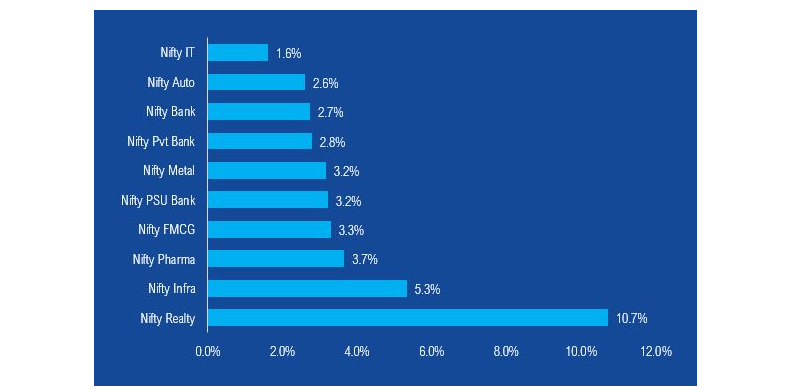 Realty and infrastructure outperformed the benchmarks this week. India's property market is seeing a rebound as it's recovering from the bad-loan crisis, pandemic headwinds and the 2016 crash.
Low interest rates are supporting the rally in realty and infrastructure stocks. Sales numbers in key cities have also shown a positive uptick, led by the middle class segment. As outstanding inventory goes down and demand picks up - this sector could see a massive surge similar to the one last seen in 2007.
Mutual Fund Industry Highlights
Fund houses to disclose risk level of benchmark along with scheme as per SEBI's new rule.
Assets under Advisory of individual MFD's rocketed in FY 2021. 88% MFDs with over Rs 1 crore assets posted a surge in AUA. The average AUA rise of these MFDs was 53%.
NFO's currently open
Baroda Business Cycle Fund
ICICI Prudential Alpha Low Vol 30 ETF FOF
Axis Value Fund