Invesco India AMC is launching a NFO, which is set to open for subscription from Feb 26th, 2021 and closes on March 12th, 2021.
Investment Objective: To generate wealth over the long term, suitable for investors having a high risk appetite who are comfortable with notional losses in the short term.
Investment Strategy: The fund emphasizes on Environmental-Social-Governance, popularly known as ESG. The fund is mandated to have a minimum of 80% of its investments in companies which fulfill the ESG clause. The core philosophy of the fund is to not just generate returns but also to create an environment of responsible investing, by selecting companies which have passed the ESG criteria.
Fund Manager: Taher Badshah and Amit Nigam
Benchmark: Nifty100 Enhanced ESG TRI
Minimum Lumpsum Investment Amount: Rs 1,000
Minimum SIP Investment Amount: Rs 500
Fund Management Process:
The Fund follows an active management with the expectation to generate alpha over the long term through investing which does not harm the environment.
Selection criteria is purely from companies complying with ESG, with Environment and Social accounting to 60% and 40% towards Governance.
3. Fund will follow this strategy at this juncture, but is subject to change as per its discretion:
Large Cap oriented(Minimum 65%) with minimal exposure to Small and Mid caps(<= 35%)
Style of investing will be a blend of Value and Growth.
Overall weighted average ESG score of the portfolio is capped at 1.50
The portfolio is estimated to be have around 30-40 companies
4. Companies involving in activities like Gambling, Coal/Oil and Gas extraction, Tobacco, Junk foods, irresponsible advertising and weapons manufacturing etc will be strictly excluded from selection.
Opportunity:
ESG as a theme is known for its socially and environmentally responsible process of investing. But what is lesser known is companies which comply with ESG theme tend to outperform the premier index of our country, which is Nifty 50. The returns of the ESG Index is not only higher than Nifty 50 but is also relatively less volatile.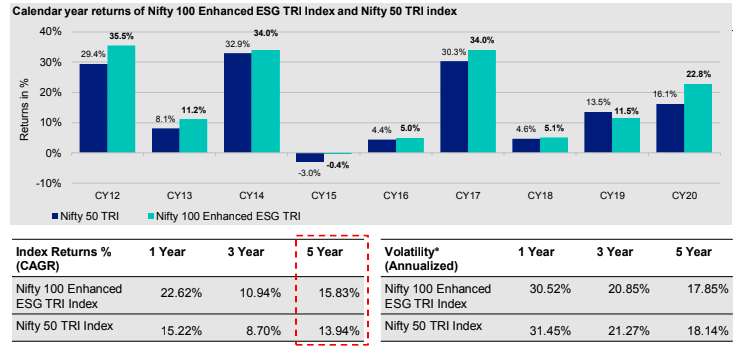 Based on our analysis, we have observed the following pros and cons
Pros:
Focuses on companies which which strictly comply with ESG
A transparent approach which is highly process driven
Active fund management having the ability to generate above average returns with relatively lesser volatility
Experienced Fund Managers with remarkable track record in managing investments
Cons:
Mostly limited to companies which adopt ESG strategy
Relatively new theme when compared to its peers
Too many filters and restrictions can cause exclusions of stocks which can deliver superior returns
This mutual fund house is backed by an able process-driven fund management but ESG as a theme in India has entered the space quite recently when compared to many established themes in this business. There is proper filter used in selecting stocks as each and every one of them is included in a specific proportion which also makes it a risky bet but at the same time provides an opportunity for higher returns.
ESG as a theme has the potential to generate good returns with prime focus on making the world a better place to live, but at the same time, has very limited stock options to pick. It is of utmost importance that the fund should be discussed with your financial advisor and then ascertain whether it is suitable to invest. Always read the scheme documents fully before investing.