Kotak Mahindra AMC is launching a NFO, which is set to open for subscription from Feb 17th, 2021 and closes on Feb 24th, 2021.
Investment Objective: To generate wealth over the long term, suitable for investors having a moderate to high risk appetite.
Investment Strategy: The fund emphasizes on Nifty Next 50 Index(Listed stocks on NSE from 51 to 100). Stocks are filtered based on free float market capitalization of the index and there is no bias given to any specific sector or stocks. The focus is to create returns which can replicate the benchmark. The portfolio is diversified across various sectors but is limited to only to Largecap stocks.
Fund Manager: Devender Singhal and Satish Dondapati
Benchmark: Nifty Next 50 TRI
Minimum Lumpsum Investment Amount: Rs 5,000
Minimum SIP Investment Amount: Rs 1,000
Fund Management Process:
1. Selection criteria is purely from Nifty Next 50.
2. Fund will replicate the Index based on free float market capitalization.
3. Any changes in the benchmark will automatically reflect in the Index fund as well.
Opportunity:
As the name suggests, Nifty Next 50 comprises of quality bluechip stocks which are listed on NSE from 51 to 100. Many of the companies which were part of this Index have progressed to the top most tier of stocks, which is Nifty 50.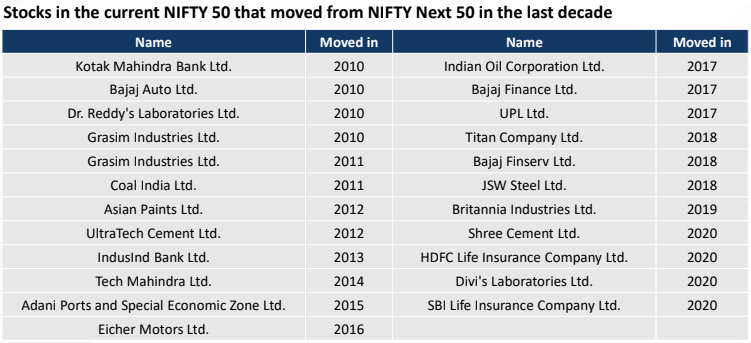 Nifty Next 50 Index has shown returns which are on par or similar with Nifty Midcap 150 Index, despite the former being much less riskier than the latter.
Based on our analysis, we have observed the following pros and cons
Pros:
No Fund Manager Bias or Human Intervention
Focuses on companies which have the potential to become Large Caps
No Exit Load
Sector Agnostic
Low Cost as it is Index Based
Cons:
Limited to just Nifty Next 50 Universe
The weightage of each stock is directly linked to the index and cannot be actively changed at any point of time.
Restricted to only a specific market capitalization
Cannot take active calls like holding cash in a portfolio
This fund does not have an active fund management but focuses more on Nifty Next 50's emergence. There is no filter used in selecting these stocks as each and every one of them is included in a specific proportion which makes it a risky bet but at the same time provides an opportunity for higher returns. It is of utmost importance that the fund should be discussed with your financial advisor and then ascertain whether it is suitable to invest. Always read the scheme documents fully before investing.