Nifty 50 continued its rally touching an intra day level of 17,700 during the week. Midcap and Smallcap indices clocked in lifetime highs also during the course of the week.

As new lifetime highs were touched and Sensex crossed 59,000 - Indian stock markets became the 6th largest stock market in terms of market capitalisation, beating France who previously held the position
The following week may see minor signs of volatility as investors look to book profits at these valuations. The Fed meet this week will also be a key event to watch out for.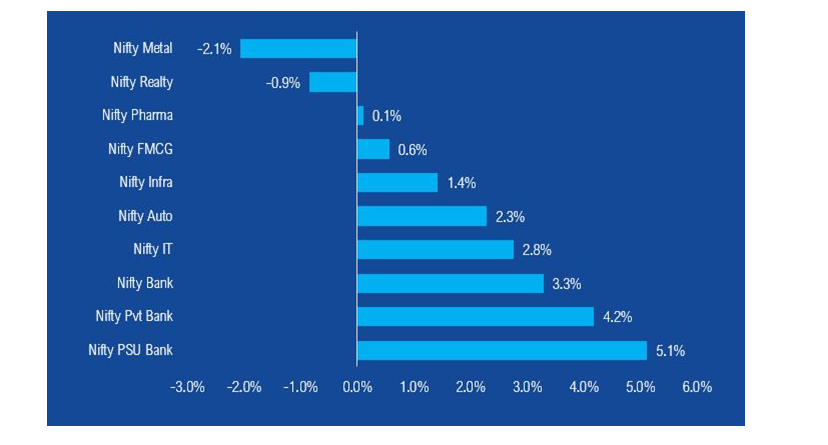 The rally was mainly led by banks.
The finance minister finally announced details around the much awaited bad bank. The bad bank will absorb over Rs 2lakh crores of bad loans and NPAs. The government will set up a National Asset Reconstruction Company that will buy out these stressed assets from bank and take these liabilities off the bank's books.
Nifty Bank will stay in focus for the coming weeks and can outperform major benchmarks in the near-term.
Mutual Fund Industry Highlights
SEBI Chief Ajay Tyagi said that while around 51-53 lakh SIPs were added during the last two financial years, around 59 lakh SIP have already been registered during the first five months of FY 2022
AMFI CEO N Venkatesh said the rise in SIP numbers and retail participation is showing emergence of mutual funds as a long term wealth creation avenue.
NFO's currently open
Aditya Birla Sun Life Nifty SDL Plus PSU Bond SEP 2026 60:40 Index Fund
ICICI Prudential PSU Bond plus SDL 40:60 Index Fund - Sep 2027
HDFC Developed World Indexes Fund of Funds