Nifty 50, the flagship index of Indian Markets has been on a unprecedented run since its fall in March 2020. Investors who have entered the markets in the last one year have had a roller coaster ride with returns zooming more than 100%. There seems to be only one direction, and it only keeps moving upwards. Investors doubled their capital within one year of investing and this is definitely extraordinary, especially given the fact that Coronavirus has lead to lockdowns of economy all around the world, landing severe blows to millions of lives and disrupting livelihood in a massive scale. Yet, Nifty 50 has defied all odds to perform stunningly.

But has Nifty 50 behaved like that always in the past? The answer will surprise you.
History tells us a different story. Markets have remained stagnant and have even delivered negative returns during specific periods. Between 04-01-2008 and 17-01-2014, Nifty 50 delivered returns of 0%. That means investors had to deal with absolutely no returns for six consecutive years and literally made no money.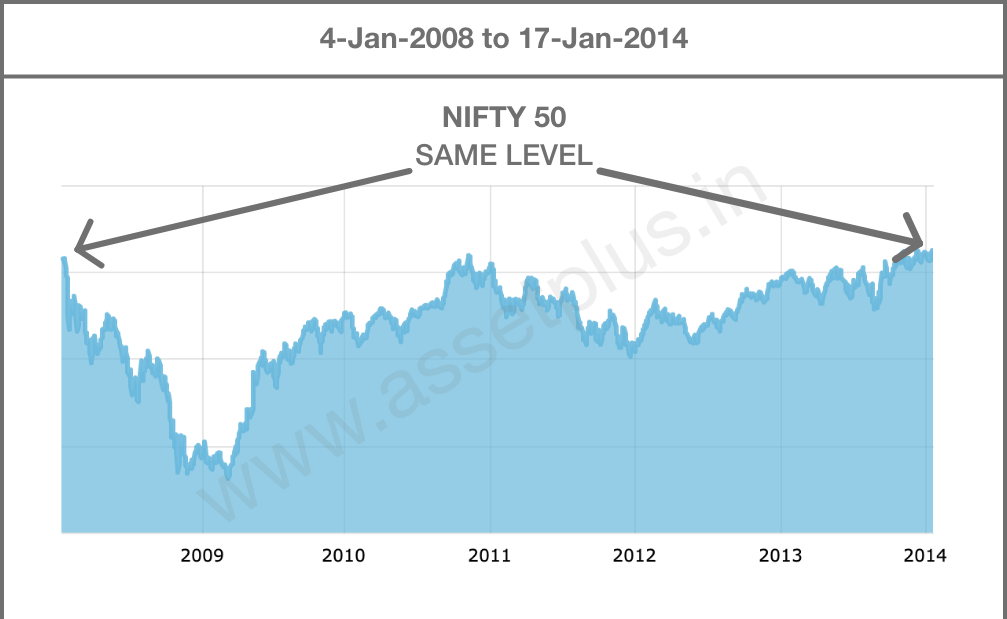 This is not the only instance as well. If you read back a little further you will find instances of negative returns. Between 11-02-2000 and 13-08-2004, Nifty 50 produced an astonishingly negative returns of -9%. For four and a half years, investors had their capital eroded continuously. Not many would have stayed invested during such tough times and more often than less, investors booked losses just to save themselves from further wealth destruction.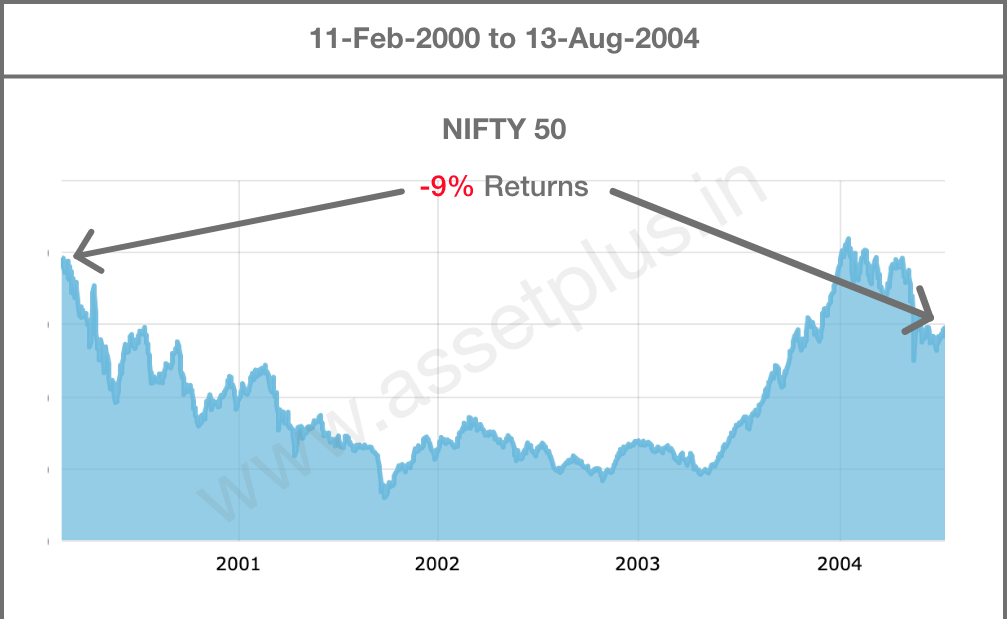 But those who remained invested eventually saw light at the end of the tunnel as returns grew manifold over time. Since the 2000s, Nifty 50 has delivered a healthy annualized returns of around 12.5%. If you had invested Rs 10,000 in the year 2000 and allowed it to grow for 2o years by just staying invested, the market value as on the year 2020 is more than Rs 1,00,000, which signifies that the invested amount has grown by 10 times in just 2 decades. In comparison, if you had invested the same amount in a Fixed Deposit, the capital would have grown to around Rs 35,000 only, which is just 1/3rd of Nifty 50's performance.

The current situation presents us with an opportunity for long term investments but at the same time, history has provided us with many subtle hints that markets may not sustain the ongoing momentum and periods of stagnation may follow. Nevertheless, the Bulls have clearly taken the center stage for now and the Bears look beaten but will it change? Only time will tell. Such is the nature of the beast.
At the same time, if you have proper Asset Allocation in place by spreading your investments across different Asset classes, your overall risk of the portfolio is mitigated and reduced. Concentrating in just one asset class leads to very high volatility in a portfolio and hence diversification is a must. Asset Allocation ensures that effect of long periods of underperformance is largely reduced, if not fully eradicated!