The elections being just a few months away, there has been a lot of speculation from the investors. While a trader/stock investor has good reason to be worried about their investments, it is surprising that investors who have opted to invest via Mutual Funds for long term try to speculate. When one invests for the long term and regularly reviews the portfolio, such short term events do not have much of an impact. More importantly such outcomes cannot be predicted.
Let us take a look at how the markets have reacted to previous election years.
Over the last 29 years, 10 elections have taken place and we've considered the stock market and the table shows that 8 out of 10 elections the market has performed positively.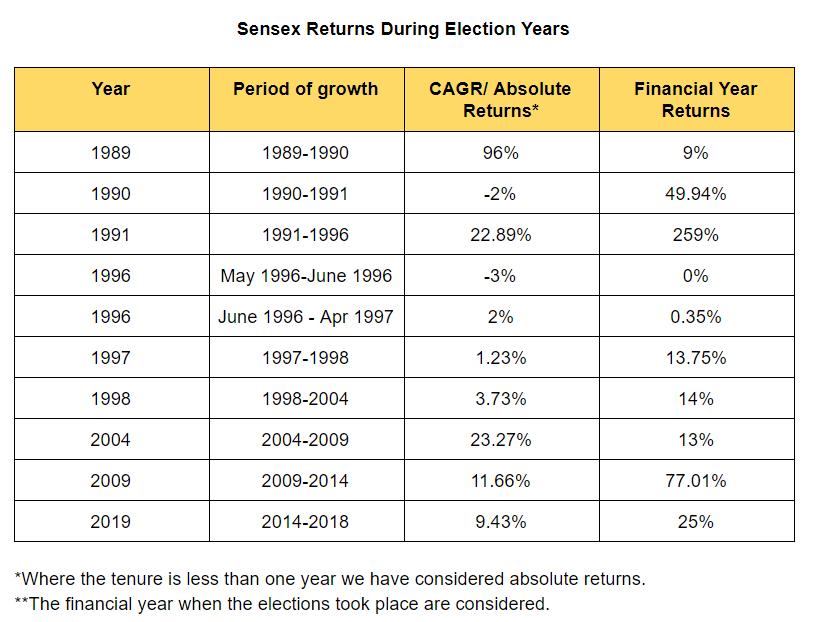 Below we have considered and analyzed the Sensex prices for the past 20 years. We have considered the year preceding to the election year to see the impact of the markets in pre election period.

The Sensex has rallied 3 out of 4 times during the pre election phase. Although this has occurred in the past, it is impossible to predict how the markets would behave for future elections.
Most first time investors are worried and unnecessarily devoting time to beat the markets during the election phase. When investors have a time horizon of 15+ years, you will come across multiple elections and global events. As long you have planned the portfolio as per your financial goals and are reviewing it regularly you need not have to worry about such short term events!