Despite lockdown announcements in larger states, the main market indices ended positively this week. The rally was broad-based with mid caps and small caps also showing upward movements. Small cap stocks ended significantly higher.

Unlike last year, the market is not negatively pricing in the impact of rising cases and lockdowns.
Nifty Metal continued its outperformance this week and was up over 10% in the week, led mainly by steel stocks. The sector has been rallying for the last few weeks due to rising steel prices. Due to this, realty and construction stocks showed signs of weakening accounting for increase in raw material costs of steel.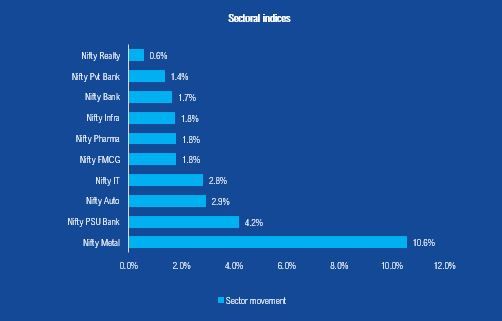 Key Mutual Fund industry highlights
AMFI has launched new rules in the past week benefitting distributors
ARN registration and renewal fees cut by 50% effective May 1 2021.  
AMFI has made new ARN and EUIN registration and renewals completely paperless. Adapting to the post-covid scenario, AMFI has enabled distributors to renew their ARN and EUIN's on the AMFI website using their PAN details.
NFO's currently open
Canara Robeco Focused Equity Fund
SBI Nifty Next 50 Index Fund
Tata Dividend Yield Fund
Parag Parikh Conservative Hybrid Fund