While broader markets were largely flat, it was the small and midcaps that displayed volatility.

After a long time, smallcaps have shown some significant deviation from the movement in large cap benchmarks. It is important to note that smallcaps have been the highest return generating asset for two consecutive years in a row now, and the segment can potentially underperform broader markets this year.  
Key events this week were the release of US inflation numbers and the RBI Monetary Policy.
US posted high record inflation numbers for the 6th month in a row. The inflation numbers for January 2022 stood at a staggering 7.5% reinforcing Fed's anticipated rate hike in March. US markets, primarily Nasdaq and loss making tech stocks bore the maximum brunt of the announcement.
The week also saw RBI announce its monetary policy. Key rates remain unchanged and RBI maintained its accommodative stance. RBI reiterated the economy's focus on growth. The tone of the meeting indicated that the RBI's future rate policies would not be directly correlated to global rate movement and that India could hold off hiking rates for significantly longer than Fed.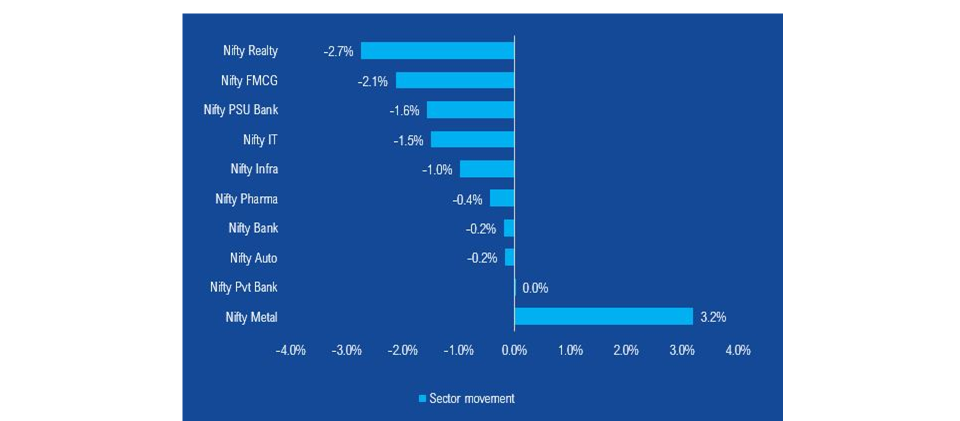 All sectors, except metals ended the week in red. Metals, rallied for the second consecutive week in a row. This sector is highly cyclical and experiences extreme linear movement in one direction in short spans of time.
NFOs currently open
Aditya Birla Sun Life Nifty Next 50 Index Fund
Axis CRISIL SDL 2027 Debt Index Fund
Axis Equity ETFs FOF
HDFC NIFTY 100 Equal Weight Index Fund
HDFC NIFTY 100 Index Fund
ICICI Prudential Nifty Bank Index Fund
IDFC NIFTY 100 INDEX FUND
Kotak Manufacture in India Fund
Navi US Total Stock Market Fund of Fund