Nifty 50 ended the week on a low and wiped out gains from the last 2 weeks. In contrast, small and midcap indices held strong and remained flat through the week.
Key reason for the volatility was rising global bond yields as investors reacted to hawkish stance by key central banks and prepared for rising rates. Profit booking and month-end derivative expiry also contributed to the sell-off.
Global markets were mixed through the week with Nasdaq 100 dipping around 4%. Taking a cue from global tech indices, Nifty IT  also dipped significantly after a long, stellar rally.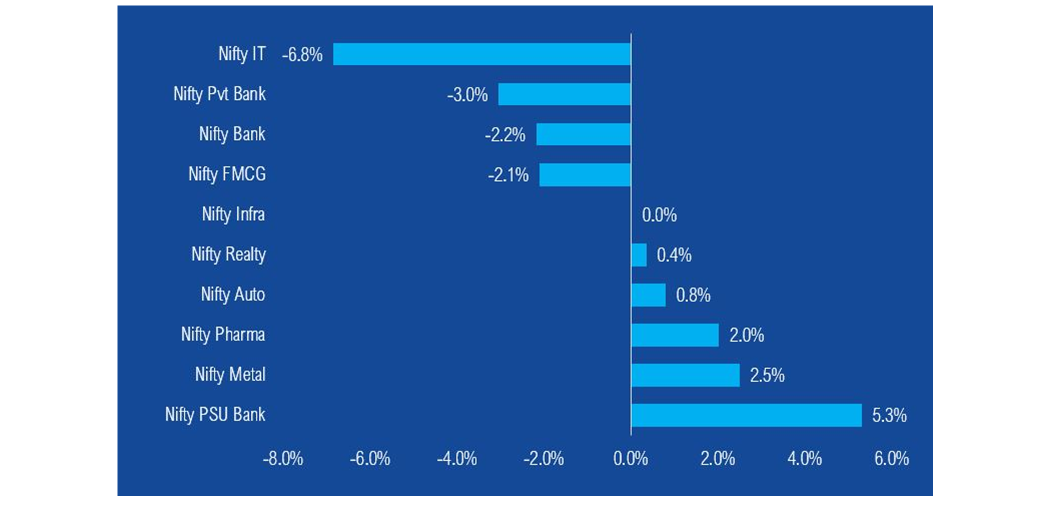 Rising rates usually favour value bets as opposed to growth stocks. Tech stocks which were already trading at peak valuations suffered over the week as a result of the same.
Simultaneously, banking stocks rallied primarily led by PSU banks which soared as privatisation discussions came to light again.
Mutual Fund Industry Highlights
SEBI introduced swing pricing
SEBI has introduced the framework of swing pricing to be implemented in debt funds starting from 1 March 2022.
Swing pricing is adjustment of NAV such that if outflow is higher than pre-determined level, the NAV goes down for investors redeeming MF units. Similarly, the NAV price goes up if investors invest more than pre-determined level.
The move aims to discourage short term traders and protects the interest of existing investors especially during difficult times like market dislocation. Initially, the swing pricing framework will be applicable only during net outflow scenarios.
Some key points to note:
The framework will not be applicable on overnight funds, gilt funds and gilt with 10-year maturity funds.
Redemptions of up to Rs.2 lakh from each scheme will be exempted from the swing rule
NFO's currently open
HDFC Developed World Indexes Fund of Funds
ICICI Prudential NASDAQ 100 Index Fund
Mahindra Manulife Asia Pacific REITs FOF
Edelweiss NIFTY PSU Bond Plus SDL Index Fund - 2027
Nippon India Fixed Horizon Fund - XLIII - Series 3