Markets witnessed another stellar week with Sensex touching 60,000! Large cap indices led the unstopped rally and shot up over 2% through the week. Small and midcap also saw nominal gains and touched new highs.
The rally is extended owing to the fast-paced vaccination campaign and diminishing fears of a possible third Covid wave.

A pivotal event in global markets this week was the default by Chinese real estate giant - Evergrande. While US and Indian markets experienced some volatility on the announcement of the news, both exchanges quickly absorbed the impact and recovered without causing much damage.
Chinese indices fell over 2% in the week and may continue to face some stress over the next few weeks.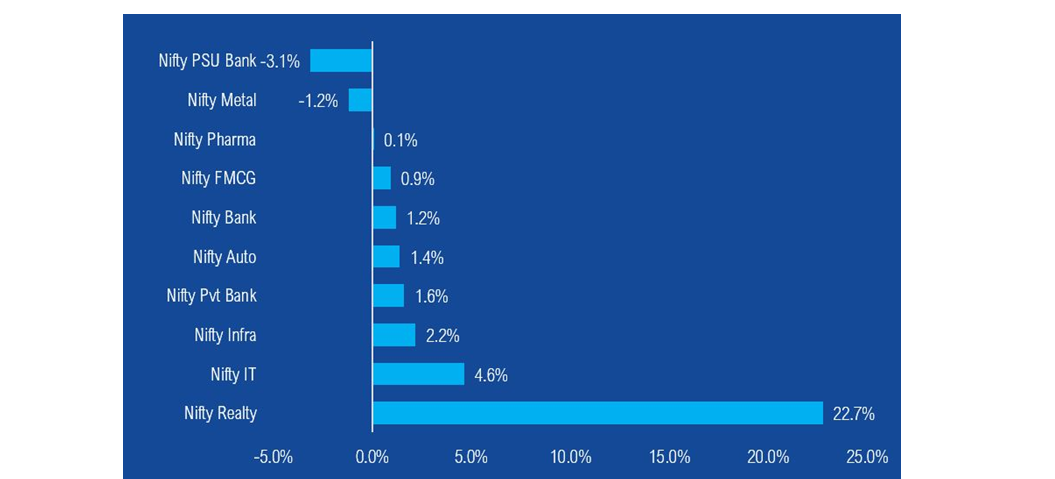 Indian realty stocks continued to outperform significantly with the realty index jumping up over 20% in a single week! The rally was owing to various contributing factors like increase in property registration numbers and cut in stamp duty (Karnataka) and home loan rates.
IT stocks also outperformed broader indices after a considerable period of lull. IT giants like Infosys, HCL Tech and Wipro touched lifetime highs during the week.
Mutual Fund Industry Highlights
In yet another move to promote "skin in the game" levels of AMCs, SEBI has mandated that junior employees (those below the age of 35) will have to invest 10% of their salary starting October 2021. They will be required to increase this allocation in a phased manner to 15% by October 2022 and 20% by October 2023.
NFO's currently open
ICICI Prudential PSU Bond plus SDL 40:60 Index Fund - Sep 2027
HDFC Developed World Indexes Fund of Funds
Motilal Oswal 5 Year G-Sec Fund of Fund