Markets continued to trade within a range. Smallcaps and midcaps continue showing outperformance over the large cap index.
Markets failed to surge higher among concerns over slower growth recovery post the second wave than expected. The economic recovery has been slow in comparison to last year.

Announcement of new regulations by China in the education space also led to a significant correction in Chinese tech stocks over the last week. Investors should monitor the situation and wait before rushing to add fresh investments in this space. SIPs and STPs can continue to help in cost averaging. However, investors should ensure the total exposure in this space is not over 10-15%.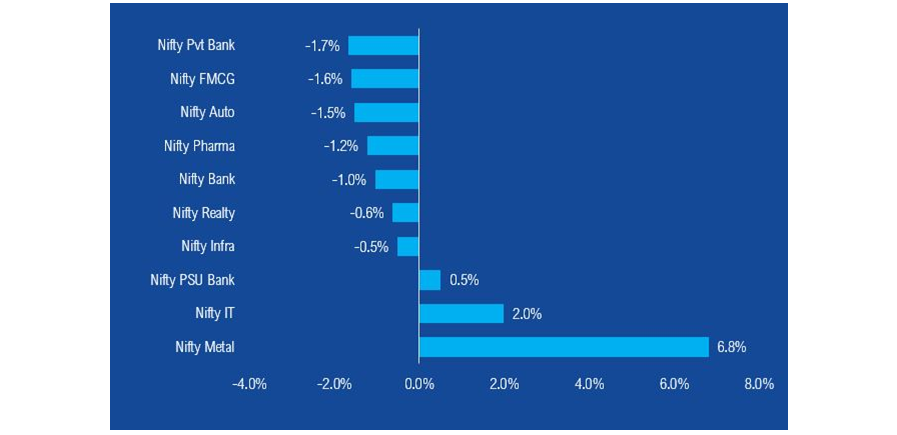 Sectors closely and directly linked to economic growth like banks and consumer-facing companies faced majority of the impact. Metals showed a re-surgence again through the week and the Metal Index touched a new all-time high.
Mutual Fund Industry Highlights
Fund manager change:
Cheenu Gupta moved from Canara Robeco Mutual Fund to L&T Mutual Fund. One of the popular funds managed by her previously was Canara Robeco Small Cap Fund. Currently, she will manage 9 schemes, some of which include L&T Hybrid Equity Fund, L&T Tax Advantage Fund, L&T Large and Midcap Fund.
NFO's currently open
Tata Business Cycle Fund
TRUSTMF Short Term Fund
Nippon India Flexi Cap Fund
IDFC US Equity Fund of Fund
Mahindra Manulife Flexi Cap Yojana