Markets continued the recovery rally, as fears regarding the potential severity of the Omicron variant lowered. Significant upswing was seen across broader markets, positively impacting all market caps.

Key factors moving markets continue to be interest rate decisions, more data on spread of new variant and earnings numbers. While domestic investors were net buyers of equities, FPI's continued their selling spree.
US has released inflation data for the month of November. Inflation data for October stood at 6.2%, which was at a 3 decade high. The data for November came in at 6.8% - which is at a 4 decade high. The direction of Indian markets on Monday's opening will be a reaction to these numbers. That being said, US markets ended the week positively even after the release of these numbers. The government had already signalled high inflation numbers, so markets could have already priced it in, explaining the lack of negative sentiment.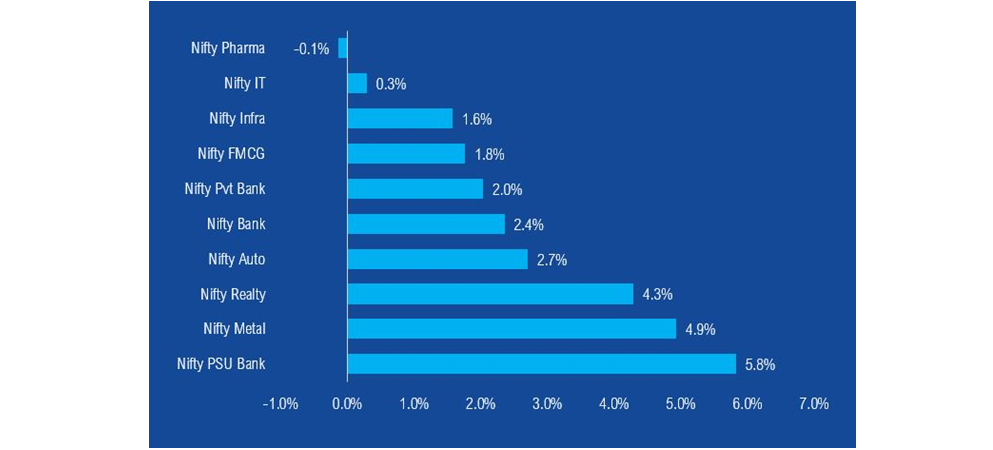 Banking and financial stocks surged, led by PSU banks. Auto sector also showed some upward movement and recovery signs as lockdown and new variant worries reduced.
Mutual Fund Industry Highlights
MF data for November shows record inflows
Monthly SIP contribution touched a record high at Rs. 11,005 crore and also crossed the Rs. 11,000 crore mark for the first time.
Net inflows in open-ended equity schemes crossed the Rs. 10,000 crore mark for the first time in four months. The figure stood at Rs. 11,615 crore
None of the categories in equity funds posted negative flows for the month.
NFOs currently open
ICICI Prudential Midcap 150 Index Fund
Mahindra Manulife Balanced Advantage Yojana