Large caps ended the week flat, while smallcaps saw a huge correction in the week.
With inflation and interest rates rising and rupee depreciating there is immense margin pressure on smaller companies that are leveraged and extremely price sensitive.

The week started on a weak note in anticipation of the Fed minutes. Things got better in the second half after Fed announced that another 50bps rate hike is expected in June and July but rate hikes would pause soon by the end of the year, signaling that it would not hamper medium and long term growth of the economy and stock markets.
Strong earnings by retail companies in the U.S. also boosted the rally with both S&P 500 and Nasdaq closing the week with 6% gains. This is the first time in 2 months that U.S. markets ended the week in green.
Asian, European and Indian markets rejoiced at the news and posted significant closing gains on the week's closing on Friday. While the rebound and positive market sentiment mat continue for a few more days, it doesn't change the impending hikes and its impact on earnings and slowdown of growth in the near-term.
Sectoral Movement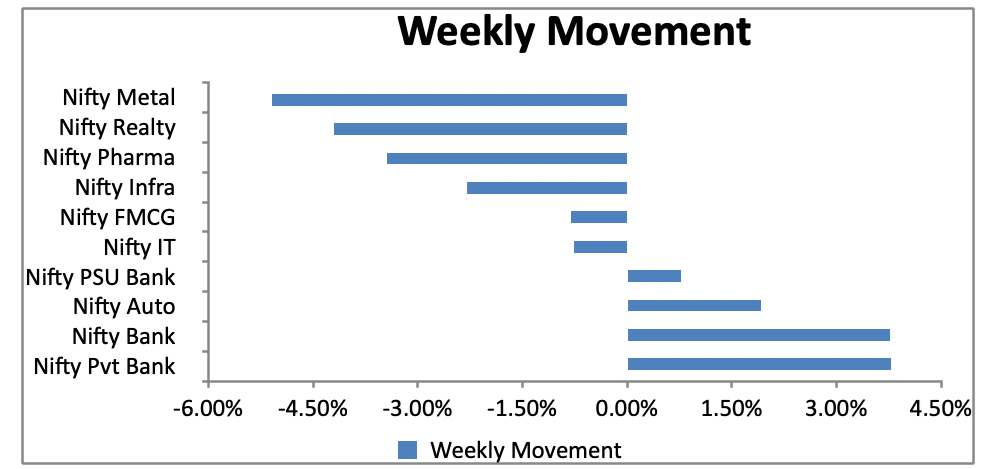 ‌Banks and autos ended the week strongly whereas IT continued its losing streak. Interest rate sensitive and cyclical stocks like realty and metal faced the maximum brunt.
No new NFOs are currently open