Markets tanked significantly in the past week with headline indices recording a 4% loss. Smallcaps, which are usually considered more volatile, protected themselves better on the downside and majority of the fall was led by larger companies.
On Friday, Nifty 50 and Bank Nifty saw its worst single-day fall since April.
The week started with a 1-2% fall with markets pricing in inflation concerns in US. However, the week ended with a more pronounced 3% fall on Friday, led by concerns over a new covid variant detected in Africa. Subsequently, some economies re-instilled border control norms and lockdown notices.
FIIs offloaded Indian equities heavily on Friday whereas domestic investors were net buyers but by a much smaller amount.
As more details on the new variant emerge, markets will continue reacting. More volatility can be expected if travel restrictions and lockdowns are probable in the coming future.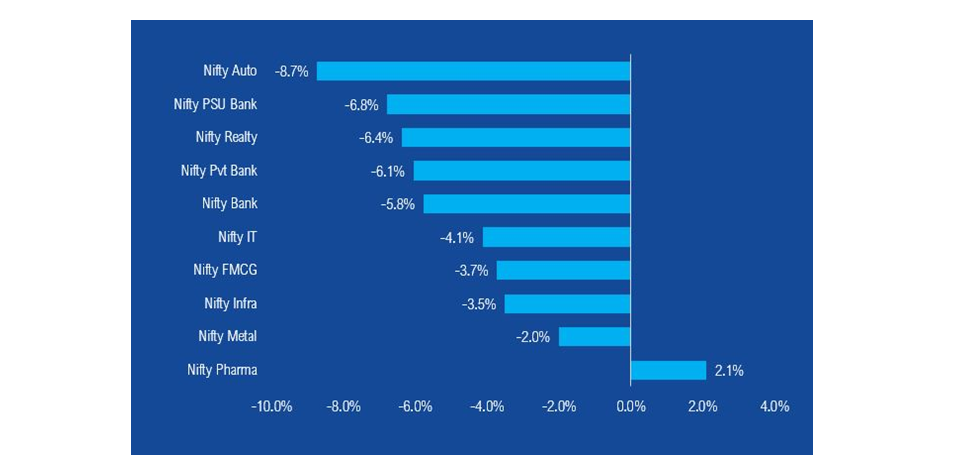 The pattern in sectoral movement was increasingly similar to that of March 2020. Sectors that bear the highest brunt of covid like auto, financials and travel related stocks crashed the highest. These sectors had just begun the road to recovery a couple of months back, as vaccinations were picking up.
Pharma and healthcare stocks was the only counter that showed an upswing through the week, pricing in a higher dependency on the sector if the country is in the grips of a new variant.
Mutual Fund Industry Highlights
Interesting AMFI data
AMFI data shows that of the total 37 lac crore AUM of the MF industry, MFDs and NDs account for around 46% of this share.
NFO's currently open
Mirae Asset Hang Seng TECH ETF Fund of Fund
Nippon India Taiwan Equity Fund
HDFC Multi Cap Fund