A new all-time high was recorded in the week for Nifty 50. Smallcaps continued outperforming broader markets among strong earnings recovery in select companies.
The recent surges in small and midcaps no longer classify them as undervalued bets. However, they still continue to trade at lower valuations than their last peak in 2017-18.

Though the large cap indices are logging in new all-time highs regularly, there is limited upside left and markets might trade sideways for sometime before surging higher. These periods are a good opportunity to accumulate investments through SIPs and STPs.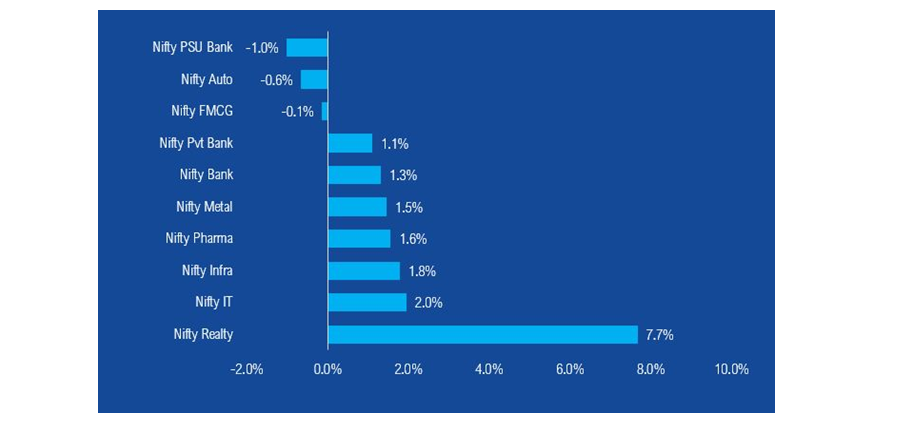 Most sectors showed muted performance through the week.
IT sector recovered in the week after Infosys and Wipro posted strong quarterly earnings. Infrastructure and real estate stocks surged through the week among anticipation of the beginning of a new capex cycle. Further gains can be expected in this sector in the coming months.
Mutual Fund Industry Highlights
1. ICICI's latest NFO - ICICI Pru Flexi Cap Fund saw record inflows by collecting close to 10,000 crore prior to opening. The fund house said the support of MFD's was crucial to the success of the NFO as 4 lac retail investors participated in the NFO and majority of investments were from the regular category.
2. Franklin Templeton Mutual Fund migrated its RTA services to CAMS. Post the transition, Franklin MF investments will be included in the CAMS consolidated statement.
NFO's currently open
Kotak Global Innovation Fund of Fund
PGIM India Small Cap Fund
Axis Floater Fund
Tata Business Cycle Fund