Broader markets remained flat for another consecutive week. Early signs of weakening in global markets pushed Nifty 50 and Sensex lower towards the end of the week. Midcaps and smallcaps however continued outperforming large caps.

As the Delta variant spreads globally, U.S markets and Asian markets showed short-term volatility. However, the S&P 500 hit fresh peaks on Friday after Indian markets closed signalling positive cues for markets opening next week.
Nifty 50 is facing resistance at 15,900 levels. The index could surge higher in the short-term once it breaches this level.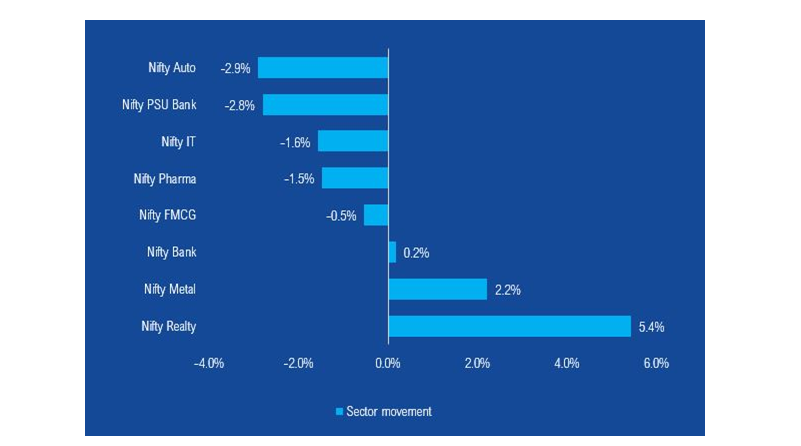 Auto index corrected this week mainly led by Tata Motors which cited supply shortages in production. IT shares also fell due to lower than expected results and earnings declared by TCS during the week.
Mutual Fund Industry Highlights
1. June 2021 data shows record number of new SIP registrations with 21.29 lakh new folios showing increasing retail confidence in the mutual fund asset class
2. Equity funds witnessed net inflow for the month with midcap seeing the highest inflow followed by sectoral funds. Value funds and ELSS funds were the only in the category to see outflow in the month.
3. Inflows in the hybrid category doubled in the month.  Over 70% of the inflows in the category was in arbitrage funds followed by dynamic asset allocation funds. Arbitrage funds is a tax-efficient debt alternate for investors looking to stay invested for over 6 months and dynamic asset allocation funds are suitable for conservative investors looking to add equity allocations at these market levels.
NFO's currently open
ITI Dynamic Bond Fund
ICICI Prudential Flexicap fund
Invesco India Medium Duration Fund
SBI ETF Consumption
Navi Nifty 50 Index Fund
Kotak Global Innovation Fund of Fund
PGIM India Small Cap Fund