Broader markets faced an extremely choppy week amid global selling pressure, weak economic cues and mixed results across industries.

U.S markets have fallen more steeply since the start of the year with S&P 500 down 8% and Nasdaq down 13%. Further correction might be expected in Indian markets as they play catch up to the global scenario. FIIs continued their selling in the week adding to the pressure.
Key market moving events for the week will be the Fed Monetary Policy meet to be held on 25-26 January. Index heavyweights like Reliance and ICICI Bank also announced positive results over the weekend which could lend some relief to markets.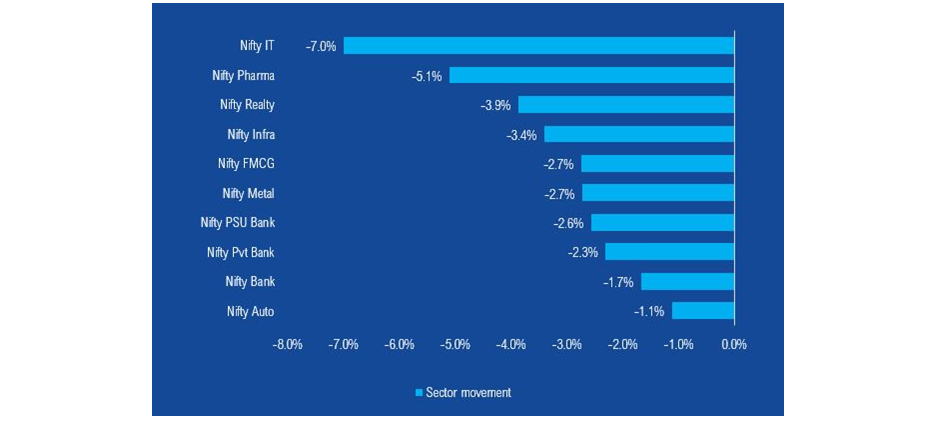 Following suit with the global sell-off in tech stocks, Nifty IT also dropped significantly in the week. While all sectors ended in the red, banks and auto saw less volatility than the headline benchmarks.
Mutual Fund Industry Highlights
Despite weakness in markets, strong inflows and folio additions continue in the mutual fund industry. 22.05 lakh new SIPs had been registered while32.16 lakh folios were added in Dec 2021
In the last 1 year alone, the new folio count increased by 27%
NFOs currently open
Aditya Birla Sun Life Silver ETF FOF
Aditya Birla Sun Life Nifty SDL Apr 2027 Index Fund
ICICI Prudential Silver ETF FOF
ICICI Prudential Strategic Metal and Energy Equity Fund of Fund
Mirae Asset Nifty India Manufacturing ETF Fund of Fund
Motilal Oswal Nifty 200 Momentum 30 Index Fund
Nippon India Silver ETF FOF
Samco Flexi Cap Fund
UTI Sensex Index Fund