Broader markets corrected sharply through the week, with Monday and Thursday reflecting huge single day falls. Markets recovered some losses on Friday as the week closed.

Several reasons contributed to the volatile week.
Global factors like U.S indices displaying weakness and Fed officially stating a rate hike in March spooked markets all around the globe. Though, rate hikes have been anticipated, the official notification by Fed caused a knee-jerk reaction.
Border tensions in Ukraine are also adding to the strain. The big sell-off on Thursday can also be attributed to positions closing due to F&O expiry date.
Moreover, Indian markets have displayed a trend for the last 3 years to have a pre-budget sell-off. This is usually followed by a post-budget rally.
Key market moving events for the week will the Union Budget 2022 and for investors to note which sectors will be prioritised by the government and provided relief.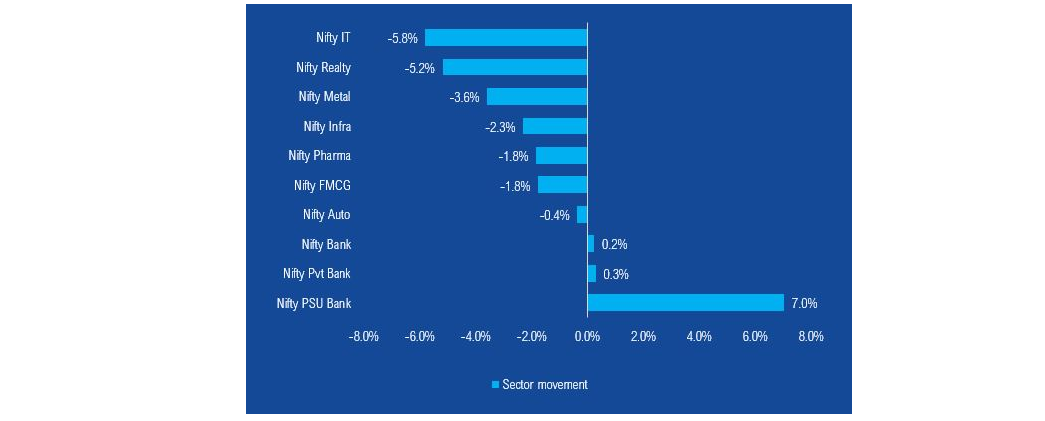 Following suit with the global sell-off in tech stocks and Nasdaq dipping, Nifty IT continued correcting this week as well. This might be a good time for investors eyeing this segment to gradually enter the theme.
PSU banks were the only sector that ended in green, with anticipation of disinvestment and privatisation announcements in Union Budget 2022. This sector usually sees high trading activity and volume around the Budget, however fails to deliver on the promises made in the Budget through the year.
Mutual Fund Industry Highlights
In December 2021, investors poured in a record Rs. 11,305 crore through SIPs, taking the SIP AUM to a new all-time high.
NFOs currently open
DSP Global Innovation Fund of Fund
Motilal Oswal Nifty 200 Momentum 30 Index Fund
Invesco India Flexi Cap Fund
Navi Nifty Bank Index Fund
Samco Flexi Cap Fund