Markets continued falling for a second consecutive week as new developments arose between Russia-Ukraine

Though broader markets are falling, there are periodic bouts of upward movement between the dips. This is ensuring the overall fall in markets are still controlled.
Along with the rise in crude oil prices, commodities like gold and silver also saw positive upticks in their prices.
‌Key events to watch out for will be the new updates coming from Russia and Ukraine, supply chain disruptions, global crude oil prices. State election results over the next week, might also cause some movement in markets.
Markets could turn more volatile in the coming days if the geo-political situation doesn't ease out. Currently, the net buying by DII and the steady SIP inflows in the market are providing some relief and controlling the drawdown levels.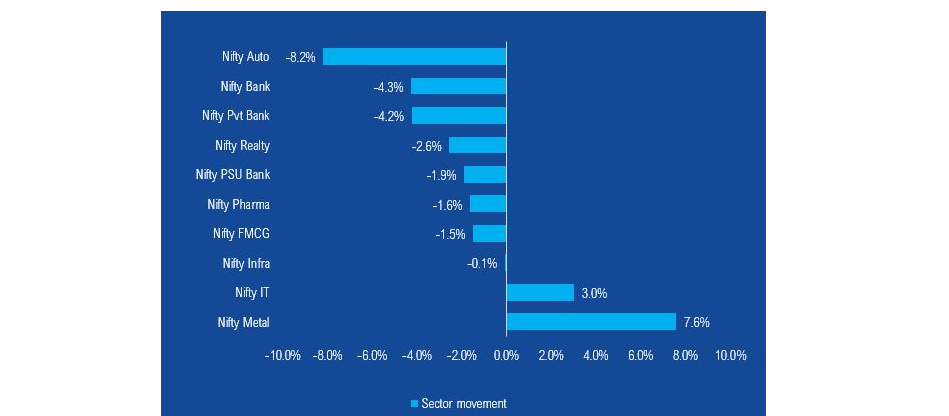 ‌Banks and autos led the losses owing to concerns of high inflation following crude oil price rise. Several FMCG companies, relying on crude oil as their main raw material also saw huge losses, in anticipation of rising input costs and lowering margins.
On the other hand, IT and metals saw gains as investors moved to defensive sectoral hubs.
NFOs currently open
Axis Nifty Smallcap 50 Index Fund
Edelweiss CRISIL PSU Plus SDL 50 50 Oct 2025 Index Fund
ITI Conservative Hybrid Fund
JM Corporate Bond Fund
Motilal Oswal S&P BSE Low Volatility Index Fund
Navi NASDAQ 100 Fund of Fund